IGNORED OBSCURED RESTORED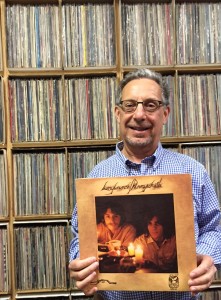 First it was Bowie, then Glenn Frey of Eagles. I have to admit, Eagles weren't my favorite band. There were times that they rocked out and I could relate, but their soft rock ditties like "Peaceful Easy Feeling" and "Best of My Love" just don't do it for me.
But Frey's passing allows me the opportunity to pay him tribute by posting about another group he was in – the duo Longbranch Pennywhistle. The self-titled album has been long out of print so it is the second installment of my "Rare Record Series."

Longbranch Pennywhistle was released in 1969 on the independent Amos label and was the work of Frey and his longtime friend and collaborator, John David (JD) Souther. In fact, they teamed up to write several of Eagles big hits including the aforementioned "Best of My Love", "New Kid in Town", "Victim of Love" and "Heartache Tonight."
SotW is "Run, Boy, Run." It was chosen because it was written by Frey and reminds me of my favorite Eagles song, "Already Gone", which was sung by Frey (although written by Jack Tempchin and Robb Strandlund) and contains some of his best ripping guitar solos.
On "Run, Boy, Run" (and "Already Gone") you can hear some of that working class rock and roll style that Frey must have learned growing up in Detroit and playing with Bob Seger (guitar and vocals on "Ramblin' Gamblin' Man"). The song/album also doesn't suffer from the musical backing they get from session players including James Burton, Larry Knechtel, Jim Gordon, Ry Cooder, and Doug Kershaw. Not a shabby group.
Enjoy… until next week.