Steve's New Year's article included a bunch of discs Mr. Moyer was considering blowing a bunch of holiday Amazon cash on.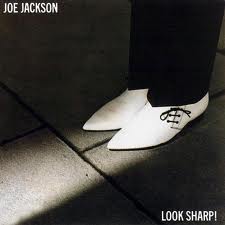 Among the coveted was Joe Jackson's terrific 1979  Look Sharp, a solid and even pretty diverse debut released during the hey day of Punk and the New Wave.
At first I dismissed Jackson as an Elvis Costello wanna be, but several songs from Look Sharp really nailed me. Is She Really Going Out With Him, Sunday Papers, and One More Time not to mention the great title cut made me buy the vinyl (I got the same issue as Peter, two 10″ discs) and the album was strong enough for me to easily take the plunge with Jackson's second album, I'm The Man.
I felt Jackson's second work was even stronger than his first, with the title track resting among my favorite Jackson tunes (it is also a song I played lead guitar on and sang with my first band, Mid Life Crisis). The album also had On Your Radio and the lovely and ironic It's Different for Girls.
I bought Jackson's next foray, Beat Crazy, and it did not do that much for me, but the eclectic musician and songwriter–who studied at Britain's Royal Music Academy–followed that up with his Jumpin' Jive Review, a wonderful homage to Cab Calloway and especially Louis Jordan.
Next for Jackson was Night and Day, a nod to pop and to Cole Porter, and an album that featured perhaps Jackson's best known tune, Stepping Out and while there were still guitars and bass and 4/4 time in Jackson's compositions, it was clear Jackson's love for big bands and orchestrations was guiding his evolution as an artist.
By the way, Night and Day was again a very strong product, with diverse, tuneful, and thoughtfully constructed pop tunes. And, Stepping Out represented the first produced video by Jackson, who had eschewed the format that had become a staple in 1982, because he felt that video detracted from the music.
Jackson's next work, Body and Soul again displayed the move towards a more refined
sound well as jazz in a work that lovingly replicates the cover art of the 1957 release by Sonny Rollins, Sonny Rollins, Vol. 2. Body and Soul has also proved to be my favorite Jackson disc, and the one that made my Top 50 (which now seems like a Top 75) for the site here.
Jackson's next work, Big World, sampled even further beats and rhythms of the world at large, while also displaying another aspect of the principled auteur, for though the album is a double disc, Jackson only felt he had enough quality material for three sides. So, side four is left intentionally blank.
From there Jackson generally moved more towards works that pushed towards fuller orchestrations, eventually delivering his Symphony #1 (1999) and though I stopped buying each of Jackson's works, I did see Joe and the band on the heels of their Blaze of Glory tour in 1989, and they were beyond great. Tight, tuneful, and funny, with the goofy Jackson playing all kinds of instruments while he stalked around the stage, like a mad musical scientist dressed in a trench-coat, as his band simply smoked.
As noted, since then, Jackson has moved from the punky guitar driven sound that garnered notice, towards classical music (he has also done a bunch of soundtracks, including Mike's Murder and Tucker), but comparing the literate and erudite Jackson with the likes of Billy Joel is not just wrong, it is criminal (sorry Gene).
One of the things I have noticed as the cluster of us contributing to the site have made our musical loves known, is some of us have a genre we love the most, or that we feel best represents what the site, as in Remnants of Rock, as opposed to country, or pop, or classical or salsa means, is that we have clear lines drawn about what qualifies.
And, while I understand this–and hell, guitar driven tunes are the ones that get me most as you can see by simply watching the I'm the Man vid–I think artists growing and pushing their vision is what keeps art, both theirs and ours, vital.
Joe Jackson is such an artist. Like Prince, or Joni Mitchell, or the Stones or Beatles, Neil Young, or even Dylan, Jackson has never been satisfied simply doing the same mishmash of tunes over and over again.
Rather he pushes and reinvents himself, and his work to keep both the music and himself growing, learning, and producing.
The results speak for themselves, whether he is your cup of Joe or not.