OCertainly the political climate in our country these days is contentious to say the least.  Although, within the construct of our politics, it is funny to me what hypocrites Americans–especially the right–can be.
For example, our "so-called president" stated pretty emphatically that had he been president, the issues with the Flint Michigan water system never would have happened. I am not exactly sure how he would have prevented any of this since initially it was local and state politics, but, well, the "orangutan" seems to say that no matter what he does or would have done, it always works out perfectly.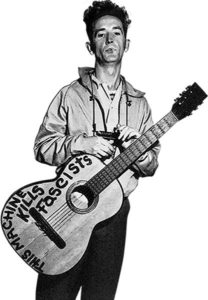 But, now the same orangutan has a chance to prove his words by intervening in the Keystone Pipeline, yet he could not be more hands off, proving again the right is interested in saying anything, and that money rules everything.
Perhaps this is exemplified no more than by the exclusion of Woody Guthrie from the Country Music Hall of Fame. Certainly Woody's politics were in the face of the right, for he wrote This Land is Your Land as a response to God Bless America, and of course, his guitar was famous for espousing his humanistic views.
Since the Country Hall represents a more conservative side of the music industry, Woody rankled enough to be kept out–at least thus far–of the Hall which is extra hypocritical considering the number of artists who gained fame by recording his songs like Goin' Down the Road Feelin' Bad, Deportees and Pretty Boy Floyd to name a few outside of This Land.
But, there is such a strong tradition of protest songs within the Country umbrella, however, that it is hard for me to reconcile how two-faced this stuff is.
For example, there is the great John Prine song, Paradise:
Or even more recently, this wonderful Drive By Truckers song of the same ilk, Uncle Frank:
Maybe one day when the Country Hall of Fame, and even our country, recognize the core of American values within the songs of Guthrie and his brethren things will change, but it is more likely that marketing Woody, and making a lot of money off his name would be the real reason.