IGNORED OBSCURED RESTORED
The Tragically Hip is a band that is yuuuge in Canada but not so well known below the border, here in the US (except for a few spots like upstate New York). There are other acts in that category — Sloan comes to mind – but none as well loved as The Hip. They write and perform their own brand of hard rock anthems.
I recently stumbled across an article in the New Yorker that covered the band's farewell tour (New Yorker – Canada's Biggest Rock Band Say a Dramatic Goodbye). Apparently the band's lead singer, Gord Downie, has a particularly nasty, terminal brain tumor known medically as glioblastoma.
Hearing about this prompted me to write this long overdue post on my favorite song by The Hip, "Fifty Mission Cap."
This song rocks! But one of the reasons I've always liked it so much is because it has such an interesting back story. It all starts with a card.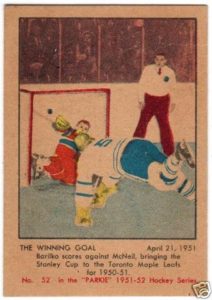 The verse tells the story of Bill Barilko, the hockey player that scored the winning goal to give the Toronto Maple Leafs the Stanley Cup in 1951. A few months later, Barilko was on his way to a fishing trip when his private plane crashed and he went missing. Some Leafs fans felt this set off a curse. Some believed they couldn't win another Cup until his body was found. Others said his body wouldn't be found until they won another Cup.
In April 1962 the Leafs won their next Stanley Cup. About 2 months later Barilko's remains were finally discovered about 60 miles from the place his plane was thought to have crashed.
So what has any of this got to do with a "fifty mission cap?"
I found the answer to that at a fan website called The Hip Museum, dedicated to "the people, places and poetry found in the music of The Tragically Hip. You will find listed here all of the references that make The Hip's music so entertaining and enriching."
It turns out Gord wanted to make the story a little more interesting so he melded it with the legend of the WWII fifty mission cap. Pilots in the war were issued caps that they wore under headphones when flying bombing missions. Over the course of 50 missions (if you were lucky enough to survive that many) the caps would become crushed. This was such a status symbol that pilots would intentionally break them in to achieve "the look." I'll let The Hip Museum take it from here, quoting Cory Graff of the Seattle Museum of Flight:
"But here's the little detail that might be important to part of the song… It was cool to have the sides of your hat all smashed. But it was very uncool to have the front droop down or collapse. As a result, many of these guys put in a piece of cardboard or a playing card on the inside in the front to keep it all going upward. So this hockey card (doing a bit of time travel I guess) is worked into the front of the 50 mission cap as a stiffener."
BTW, if you're wondering, a fifty mission cap looks like the one Colonel Hogan (Bob Crane) wore in Hogan's Heroes.
I hope this post turns a few more Americans onto one of Canada's best kept secrets.
Enjoy… until next week.