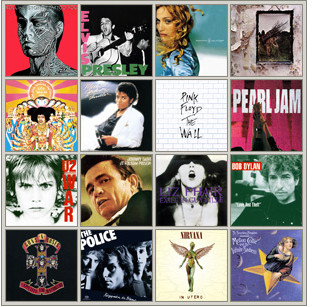 About a year ago Rolling Stone updated their 500 greatest albums of all time list. You can read it here.
As the Essential Remnants Top 50 countdown reaches the midway point, I thought it would be interesting to list the albums that Rolling Stone honored that the Remnants have ignored (with a comment):
Little Richard, Here's Little Richard: Not a single mention of Little Richard on any of our lists, which is surely an oversight.
Public Enemy, It Takes a Nation of Millions: Didn't make the Top 50, but certainly qualifies.
John Coltrane, A Love Supreme: Everyone named one, different jazz album.
Bob Marley, Legend: Too big, too mainstream for the Remnants list.
The Band, The Band: We went with Big Pink. RS listed both.
Pink Floyd, Dark Side of the Moon: Too monstrously popular to listen to anymore. Obviously of historical significance.
Love, Forever Changes: Not mentioned by us, but one of my favorite albums. This is Rolling Stone's most idiosyncratic choice, since it isn't historically significant or a big seller or representative of some genre. Nice!
The Beatles, Please Please Me: We have plenty of other Beatles. It's all great.
Muddy Waters, Anthology: As a group we went for Howlin' Wolf.
The Eagles, Hotel California: We went for Supershit 666 instead.
Carole King, Tapestry: Another hugely popular record it's hard to hear fresh anymore.
Bob Dylan, Bringing It All Back Home: Another obvious choice. We went with another obvious choice.
Joni Mitchell, Blue: We split the Joni vote between Court and Spark and Hejira, so she didn't rank in the top 50.
Michael Jackson, Thriller: Yet another monster classic that didn't need a mention.
Van Morrison, Astral Weeks: The obvious artsy choice from a giant. We had the more rocking Moondance in the running, but it didn't quite make the cut.
Bruce Springsteen, Born to Run: Once again, RS goes with the obvious classic. We do have a Bruce on our list.
Nirvana, Nevermind: And yet again, the classic that's been played a few million too many times.
Bob Dylan, Blood on the Tracks: Similarly classic, but though obvious still sounding fresh as the day it was released.
Miles Davis, Kind of Blue: More jazz. Not as great or as influential as A Love Supreme, but masterful and beloved.
Marvin Gaye, What's Going On: Seems like there must have been a tabulation error. This was on our lists. The best album of a great singer and songwriter.
Bob Dylan, Highway 61 Revisited: The Remnants didn't go crazy over Dylan in their lists, but agreed on just one disk (not this one).
The Beatles, Sgt. Pepper's Lonely Hearts Club Band: The most artsy elpee they made doesn't need more recognition, though it certainly isn't undeserved.